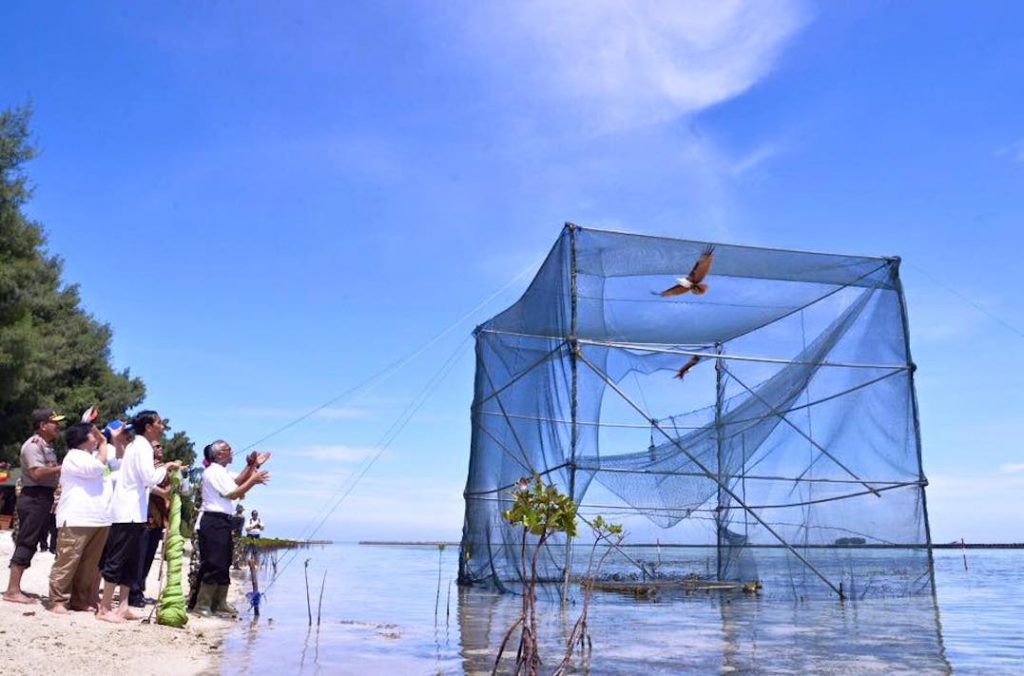 Our Raptor Rescue and Rehabilitation Program received official recognition from the President himself.
April 14, 2016 was a very special day for JAAN. Our Raptor Rescue and Rehabilitation Program on Pulau Kotok, Thousand Islands received official recognition!
The program  was started in 2004 after the confiscation of 8 Brahminy Kites at the International Airport Soekarno Hatta. Our survey at the time showed the birds had become extinct in the area of DKI due to the illegal bird trade. The rescued birds were rehabilitated, step by step and prepared for their release back in to the wild. We have released 72 birds, which were all rescued from illegal traders and we continue to monitor them after release. We are proud to see them happy in the sky, soaring FREE! The fact that the birds are nesting yearly shows their successful survival after being released. You can read all bout the program here.

Our hard work received official appreciation and recognition. President ir. Joko Widodo has provided Kotok Island the formal status as a Raptor Sanctuary (Protected Zone).
Thank you to Yth Presiden RI Bpk Joko Widodo, The Minister Of Forestry Ms Siti Nurbaya and The Forestry Director General Bpk Tachtir Fathoni for the collaboration and  support. A big thank you to our loyal JAAN supporters, especially Mr K. Adjie for helping us all these years with our efforts to save and protect the Brahminy Kite. Of course a thank you to the hard working team at Kotok Island and citizens of the Thousand Islands. Thank you!
Pictures below.